When listening to the voice of Ahwazi female singer Mina Deris, you quickly feel the wonderful, authentic and strong voice, which always has an impact on your soul. Though also pretty, this artist has decided to pursue a different path from others, with her songs having themes spreading awareness about cultural and human diversity. Day after day, she proves how deeply she is both talented and committed to change while maintaining her modest, real and distinguished character.
In an exclusive interview with DIRS, Mina, who now lives in the USA, told us about her revolutionary music and its deeper meaning, her eventful life and her future plans.
She began by telling us about her childhood: "Although I am Ahwazi Arab, I wasn't born there," she explained. "My parents, who were living in Abadan city, were forced, like many Ahwazis, to leave the Ahwaz region due to the war between Iraq and Iran. My mother was nine months pregnant carrying me, and I was born during their journey from Ahwaz travelling to Tehran, before they arrived in Tehran. They settled in Tehran until I was ten and then moved to Karaj City until I was 15.
She remembers her childhood trips to Ahwaz fondly: "I began to travel back to areas of Ahwaz with my parents during holidays, particularly Abadan, my parents' birthplace, where I visited my relatives, tasted the delicious traditional foods like the Ahwazi fish stew (Ghalieh) and watched my cousins sing and dance in the shade of the palm trees," she recalls, growing happier at the memories. "I was amazed there, seeing the beautiful rivers and the bridges built over them, the animals local to the region like buffalos, the red sunsets, playing hide and seek in the dense palm groves on the hottest days of summer."
As her childhood went on, Mina fell more and more in love with her Ahwazi heritage: "Every time I visited my homeland, I'd learn about new things, like the tattoos on my aunts' faces and their symbolism, their long colourful robes and the distinctive traditional braiding. I recall attending a wedding with my parents for one of my cousins and finding out about the customs among Ahwazi Arab women who all paint henna on their hands, feet, and hair – for Ahwazi women, the henna paste represents good health and successful marriage. They say, the darker the henna stain, the deeper the love between the couple."
When her parents returned from Karaj to the city of Abadan, her father's hometown in the Arab Ahwaz region, Mina, was shocked at the deprivation. "I spent the next six years there and saw the blatant discrimination against Ahwazis and their suffering, and the government's negligence towards Ahwazi Arab areas. I experienced the lack of vital educational services in schools first-hand. My own high school major was mathematics and physics, but the assigned teachers failed to teach us properly. Even when one of the teachers suffered a heart attack and never returned to class, the school didn't try to find a new teacher for us, so we were forced to study the entire curriculum on our own and prepare for the final admission university exams without any help. I could barely compare the quality of education and school services in Tehran and Karaj to the war-torn city of Abadan, which was left destroyed and never rebuilt, never saw urban development – the buildings there are still pockmarked with the scars from gunfire, missiles and rockets, the hospitals lack specialist doctors, and the schools are totally abandoned, with no services."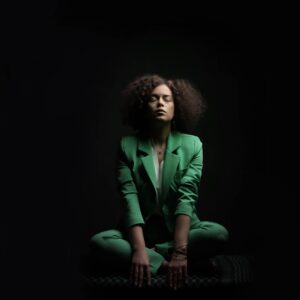 As a singer and musician from an early age, Mina felt driven by her art and her perpetual curiosity to embark on a voyage of self-knowledge to find the answer to the questions of identity that beset her and to find the spiritual and emotional equilibrium, the inner peace as she describes it, that fuels her creativity: "To find my inner peace, I had to explore all the facets of my cultural identity, both the positive and negative aspects, in my unknown homeland, Ahwaz," she explained. "I'd always lived outside the community, and I wanted to understand deeply the culture of my Ahwazi people. The journey was something like searching through the shelves to find something that I'd lost. To me, that was an answer to the question: 'Who am I?'"
Mina added that she feels she's gained a unique perspective from growing up partly in predominantly Persian regions of Iran and partly in Ahwaz: "Those days have become a tremendous antidote to my psyche," she said. "I'm now a proudly Ahwazi woman raised in a Persian-speaking city."
For Ahwazi singer Mina Deris, the arts, particularly music, aren't just her passion, but her life. As she told DIRS, "The arts generally, and music, poetry, and singing in particular, are regarded as the common language that transcends the differences between the world's peoples, creating a distinguished civilised dialogue that allows people with diverse cultures, languages, and religious and sectarian beliefs to build bridges of communication, rapprochement, and friendship with one another."
 The singer added that the arts allow people to have deeper relationships with others than they might otherwise be able to, uniting people in a shared appreciation of universal languages of self-expression.
Despite facing numerous challenges in Iran as a female Arab singer under a repressive and routinely racist theocratic regime that bans female performers, Deris has achieved success on her own terms, single-handedly and with no help from artistic institutions. Defying the regime's restrictions, as well as the customs, traditions and societal conventions that inhibit many Ahwazi women and prevent them from achieving fulfilment, with her unique, sweet, plaintive singing voice and poetic delivery quickly winning her a devoted following among lovers of music and poetry in Ahwaz and elsewhere in Iran, where she's the most popular Ahwazi vocalist.
Although she studied Materials Engineering at Yazd University, graduating with a BA, her passion for music since childhood saw her quickly return to her true vocation as a singer. Buoyed by supportive family members, she pursued her musical calling, first as a member of the Iranian 'Novak' ensemble in Tehran, with whom she performed in concerts across Iran, with the group finding particular success among Persians and Turks as well as Arabs.
Her clear melodic tone and pure singing voice quickly saw her gain a following on Iran's arts scene, performing to enthusiastic audiences at arts festivals and singing in the maqam style (a set of pitches and of characteristic melodic elements, or motifs and a traditional pattern of their use, which is the principal melodic concept in Middle Eastern musical theory and practice). She also duetted with a number of Azerbaijani singers in songs combining Farsi and Arabic lyrics, which proved massively popular with both Iranians and fans of Arabic music.
Experiencing the vast difference between life in Arab-majority Ahwaz and in the predominantly Persian areas elsewhere in Iran was an eye-opener for Mina, altering the direction of her life: "I had spent most of my life before that in a majority Persian cultural environment, but in Abadan City, I lived in a primarily Ahwazi Arab environment for six years," she told DIRS. "That gave me a broader perspective in trying to find ways to boost awareness of the beauty of diversity and cultural and ethnic variations, which are often misrepresented by the Iranian regime as sources of division and disunity. As a result, after the university, I decided to change the course of my life. I chose to become a missionary of peace and cultural diversity and to be an ambassador for the voice of my Ahwazi people, particularly women, through my singing."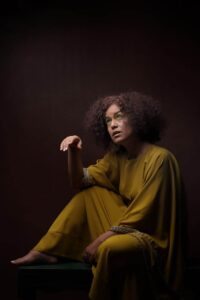 Asked why she chose music as a medium for activism, Mina explained that following graduation, she thought long and hard about how best to effectively raise awareness of the Ahwazi people's long-neglected cause. "I decided that the most effective awareness raising method was through art, especially singing in Arabic, my mother tongue."
Mina's activism and performances quickly caught the attention and disapproval of the Iranian authorities on various fronts. Firstly, both as a female singer and an Ahwazi Arab, she was doubly viewed with suspicion and hostility.
Secondly, the Iranian regime frowns on any expression or celebration of Ahwazi culture, often misrepresenting this as "sedition", harassing and persecuting Ahwazi artists and cultural activists, routinely imprisoning them after kangaroo trials reliant on false confessions extracted through torture.
Despite all this, she refused to give up. "The difficulties I faced while singing in Iran were numerous, including the inability to produce my own songs in the manner I wanted because I had to follow government laws as a female singer. The state intelligence agency was disturbed by my promotion of Arab identity and culture, as well as my efforts to develop cultural connections with Ahwazi artists and Ahwazi Arab women. I decided to leave after the Iranian regime's intelligence service summoned me for questioning and asked what I was doing, and they wanted me to come to their offices – those were my final days in Iran. I left the country hoping to sing and produce my songs in greater freedom and without constraints. As a result, I effectively represent my Ahwazi Arab culture, particularly Ahwazi women."
Deris, who recently relocated to the USA, now lives in Los Angeles, where she's wowing a new audience and building an international support base, with her gorgeous voice and emotive performance of wonderfully poetic verses in classical Arabic already winning her fans. Deris also spoke about her art and how she uses music as her weapon in fighting reactionary tradition and supporting freedom and enlightenment.
DIRS asked her when she began singing and who encouraged her to pursue this talent. 
She told us, "I began singing when I was around 15 years old. My mother and father encouraged me at first, but it was a schoolteacher who discovered my talent and praised the beauty of my voice while I was reciting songs and anthems at school events. My friends were also very encouraging to me. I was eager to read from a young age, and reciting songs and anthem and Quranic verses in school was the first source of my motivation. This helped in drawing teachers' attention to me. I felt I must have a wonderful voice because I won top prizes in competitions. My parents both had wonderful voices, so I assumed it was only natural for me to have one as well. Professor Farhang Sharif, an Iranian musician and renowned tar player inspired me to continue and to specialise in Arabic music when I met him in his house and he asked me to sing one of Umm Kulthum's songs."
DIRS asked Deris how she merged both Arabic and Farsi songs. 
She explained, "Because Arabic literature provided many meanings, topics, and poetic rhythms for Farsi, when we read the Persian language in the literature part, we're naturally drawn to Arabic literature. And because I am an Ahwazi Arab I had a greater desire and eagerness to read poetry in Arabic and use this in my songs."
Asked whether Arabs or Iranians had a greater influence on her musical style, Deris replied quickly: "both Arab and Iranian singers influenced me. I like Mohammad-Reza Shajarian, the Iranian singer and master in traditional music and I love and treasure Umm Kulthum's singing, and I'm enthralled by her and her voice. My father once told me that Umm Kulthum was the best singer in the Middle East; he said that she came 'from Egypt, the mother of the world and the mother of civilisation.' I wish she was still alive because I would walk to Egypt, if that's what it took to see her! Umm Kulthum was not only a brilliant singer and songstress to me, but also a strong and influential figure, despite the fact that I couldn't understand the meaning of her lyrics when I was younger because Arabic was not taught as a first language in Iranian schools. Then are are Fayrouz, Wadih Al-Safi, Sabah Fakhri, Nazem Al-Ghazali, Muhammad Abdo, Kazem Al-Saher, and Asala Nasri all of them great voices. After Umm Kulthum, those are my favourite singers."
When DIRS asked whether she includes any of her musical heroine, Umm Kulthum's, songs in her concerts, Deris said, "I sing some of her songs for myself alone because I feel no singer or musician can perform Umm Kulthum's songs as well as she did. So, out of respect for her illustrious standing, I've never dared to sing her songs in public, although I do so occasionally for myself.
We asked Deris which type of music she prefers and why she'd chosen to perform in formal Arabic while living in Iran, whose rulers are known for their anti-Arab prejudice, Deris said:
 "I sometimes sing in the authentic classical style, sometimes the popular Ahwazi genre, and occasionally I accompany certain female Farsi singers, but I adore classical Arabic and prefer to sing in it since I love literature and poetry," she explained. "Saadi Shirazi and Hafez Shirazi are two of my favourite poets since their poetry is very human, and they have verses and poems in Arabic. In addition, I admire the poetry of Imru' al-Qais and Antarah al-Absi, two great pre-Islamic Arab poets, and I treasure the poetry of Al-Mutanabbi, Abu Tammam, and Abu Firas Al-Hamdani from the Umayyad and Abbasid eras, particularly the poem "Oh, a dairy doe that grazes in its tents" by Al-Sharif al-Radi."
Asked if she has any particular favourites among her own songs, Deris said, "I've got two albums with songs of my own, which mix Arabic and Farsi, written by composer Hessam Aldin Nasseri. I performed these for the first time in the Iranian city of Qazvin."
In response to a question about her performances in festivals in Iran and globally, Deris explained, "I've taken part in several festivals, in addition to many concerts and singing evenings where I've have performed with fellow singers and other artists. In 2015, I started my activities outside Iran by participating in the BIT Festival in Milan, Italy, then in the Diversity of Cultures Festival in Qatar, the Avignon Festival in France, and the Iranian Women's Voices Festival in Berlin. Last year, I participated in the Babel Festival in Iraq and another festival in in the Iraq's Kurdistan Region. I've also given many concerts in Iran, both solo and as part of a group, for women only."
"Also, since coming to America, I've performed at several events, underlining my belief in the beauty of diversity, as well as promoting women's rights, long denied by the Iranian regime which brutally oppresses women and restricts our choice of work, our dreams and our personal freedom," she told DIRS. "My first performance, in both Arabic and Farsi, was at the Tsail Performance Centre in Boston University in 2022, and I'm currently producing and performing my songs in the 'Voices Unveiled' group, as well as working on a few songs that will be released soon."
We asked Deris what message she wanted to deliver to her fans in Iran and, in particular, to the Ahwazi people: 
"The message that I want to convey to my fans and all those who love and respect me for my humble artistic status is that I don't consider myself merely a voice for entertainment, but rather I'd like to convey the issues that concern me from a social and personal perspective to people through accurate expression in music," she explained. "I hope that by increasing women's awareness and interest in raising children properly, they'll help bring about cultural development as much as possible. In the end, women make up half of society. They are the mothers, sisters, wives, and the tent that encompasses the entire family. Therefore, we must all combat the phenomenon of the marginalisation of women's role and give them the great role and status they deserve."
She added, "My especial message to Ahwazi Arab women, is that no route is easy, and each path has its own set of difficulties. As a result, you should never be afraid. Every one of us can be a change agent, and I hope that the Ahwazi people will invest more in the field of art and transform it into a conversational language to reach out to other cultures and peoples throughout the world. We may express ourselves and display the beauty of our culture via the language of art. We can also demonstrate against bad habits and customs. We may be the torch that shines brightly and dispels darkness and ignorance. The language of art is not only for men. It should be the language of both Ahwazi men and women, because developing a progressive society would not be feasible without the participation of both Ahwazi men and women."
In response to a question about her future plans and whether she planned to promote her music through videos as many singers in the Arab world and Iran do, Deris said, "My objective is to produce my music in Arab international art centers, which I am trying to organise now that I'm living in the United States," she said. "I'm excited about meeting and collaborating with other Arab artists, and I hope my plans come to fruition."
"I'll try to do that if I have the opportunity and my conditions improve after the hardship of emigration. I'm still a stranger to the place I live in now, but I believe that after I get to know the Arab community, Arab artists, and the Arab artistic community in America, I'll release some videos or albums because no singer can become famous locally, in the Arab world or globally without producing their songs and releasing their artwork. Because of immigrating only recently, I'm still at the beginning of my career, but I have great hope of making my dream come true."
We concluded the interview by asking Deris about her dreams for the future:
"I hope to be able to continue studying music at prestigious universities in America," she replied. "I love travelling, and I love learning more about different cultures. I hope to get a diverse range of artistic and life experiences by travelling to different countries and participating in music festivals, especially in Arab countries, including UAE. I believe that art is very effective in bringing people's hearts closer to each other, and this rapprochement occurs by knowing as many common points as possible between us humans. I hope that one day we will have a world where peace, light and security prevail."
By Rahim Hamid
Rahim Hamid is an Ahwazi freelance journalist and human rights advocate. Hamid tweets under @Samireza42.