The regal connection of a very British-sounding actress to the occupied Ahwazi Arab emirate in the south and southwest of Iran may come as a surprise to some readers.
Certainly, after a century of historical revision on Ahwaz by successive Iranian regimes, little is now known by anyone but Ahwazis about Ahwaz, the Iranian occupation and a history of injustice and grievances dating back to the 1920s when the then-new self-declared Persian monarch, Shah Pahlavi decided to put a brutal end to the Arab emirate's independence. In his coup, backed by the British Empire, Pahlavi militarily invaded Ahwaz and ousted the Emir, Sheikh Khazal al-Kaabi, Ahwaz's last Arab ruler, imprisoning him in Tehran until his death in 1936.
No matter how hard the Pahlavis and their successors try to deny Ahwaz's history, culture, and rights, the Ahwazi people and the diaspora worldwide continue to embody its heritage. One such figure was the British actress Zara Nutley, or Zahrah Mary Chassib Jaber to use her full Arab name. Zara, who died in 2016, was not only of Arab ancestry but of royal lineage, with her father being the eldest of Emir Khazal al-Kaabi's sons and the heir presumptive to the Ahwazi throne, making Zara a princess.
Zara was born in Cornwall on August 19, 1924 —ironically, a few months before the Iranian annexation of Ahwaz in 1925—in Cornwall. Her father, Sheikh Chassib bin Khazal had changed his name to the far more prosaic 'Stanley Jaber', while her mother was an Englishwoman, Gladys Gregory.
The events that led to Zara's birth and her father's tumultuous life story would themselves make a great film, being far more dramatic as any of the fictional storylines in the theatrical productions and TV series in which she later starred.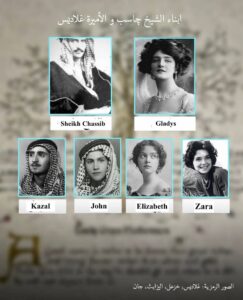 Her father, Sheikh Chassib, was sent into exile in the UK in the early 1920s after staging a failed coup against his own father. In 1923, he married Gladys Gregory who he'd met at a charity event, with Zara, the first of their four children, born the following year.
Although it's unknown why Sheikh Chassib chose the forename, Stanley', it may have been a tribute to an Englishman, Dr Stanley, who lived in Muhammarah City, where Sheikh Khazal's palace was located, serving as the royal family's doctor. Indeed, Dr Stanley's medical services were apparently so highly commended by Sheikh Khazal to his fellow monarchs in the Arabian Gulf region that the doctor was summoned to Kuwait in 1909 to treat the then Kuwaiti emir Sheikh Mubarak Al-Sabah.
Sheikh Chassib's marriage to Zara's mother, Gladys, was apparently an unhappy one, with the sheikh leaving his wife for the couple's nanny, who he subsequently married following the divorce from Zara's mother. Following Persia's brutal occupation of Ahwaz, which was ironically supported by the British in return for favourable deals on the region's vast oil and gas reserves, then the arrest of his father and the years of heroic but doomed resistance by the Ahwazi people, Sheikh Chassib decided to leave the UK and return to the Middle East, first relocating to Basra in southern Iraq and then to Kuwait, possibly choosing these locations for their close proximity to the Ahwaz region.
Although Sheikh Chassib wanted to assist his fellow Ahwazi people in their struggle against the Iranian occupation, the vast military power of Iran's rulers and their backers arrayed against the tiny emirate were simply too great for any resistance, however courageous, to withstand, and the region was subsumed, with Pahlavi and his successors working tirelessly to try to eradicate Ahwazi heritage and history.
His daughter Zara, meanwhile, remained in Britain, where she developed a passion for acting as a young woman, beginning her career in amateur theatrical performances in the 1940s and going on to study and later teach at the Florence Moore Drama Studio in Hove, Sussex, in the 1950s. In the years before 1977, she was known variously as Zahrah, Zarah, or Zara Jaber.
She was a successful and well-loved performer for decades, with an extensive filmography and star rating in a range of TV shows, including Mind Your Language, Grange Hill, Lovejoy, Terry and June, Never the Twain, Metal Mickey, Dawnbreaker and many others.
Despite being a well-known actress in her day, Zara's Arab identity was barely acknowledged, with few knowing of her Ahwazi origins. Since her passing, it seems that Zara's life, like her father's homeland, has quickly been forgotten.
Similarly, over the past nine decades, no governments have cared enough about the brutalised and marginalised Ahwazi people's tragic history of persecution and injustice to support calls for the restoration of their rights to their ancestral homeland.
Nutley passed away at age 92 in Uckfield, East Sussex, on October 9, 2016. This glimpse into her and her father's lives may pique the curiosity of some to investigate the history and origins of the Ahwazi cause, the Iranian annexation and successive Iranian rulers' efforts to eradicate the Arab region's identity. Ahwaz's great and tragic history and its people's ongoing struggle for recognition and justice deserve acknowledgement and support from a world that has shamefully betrayed them for almost a century to date.
By Rahim Hamid
Rahim Hamid is an Ahwazi freelance journalist and human rights advocate. Hamid tweets under @Samireza42.