The Iranian regime's infamous intelligence and security services have stepped up their arrests and killings of young Ahwazi Arab protesters, some of them children, at the regime's torture centres throughout the Ahwaz region in the south and southwest Iran.
 As protests escalate across the country, the regime is intensifying its already brutal abuse of Ahwazis and other ethnic minorities, detaining thousands in mass arrests, with deaths under torture also rising.
 Two of the latest victims were 23-year-old Ali Bawi and 18-year-old Mahdi Farhani. According to Ahwaz Human Rights Organisation(AHRO), Mahdi was killed under torture in a regime prison on Sunday, 23 October, two weeks after his arrest. His body was handed over to his brother the day after his death, with regime security officers ordering him to organise a quick burial without any other mourners; failure to comply with these orders would see Mahdi's brother and other family members punished.
 Also on Monday, 24 October, the body of Ali Bawi from Khalafieh city was pulled from the Jarahi river which flows through the city, with marks left by torture visible all over his body. Witnesses confirmed that the youth had been arrested by regime security forces for writing anti-regime graffiti on a wall during protests. The regime routinely throws victims' bodies into the river as a means of threatening the public.
 Ali's parents angrily dismissed the regime's claims that he fell into the river and drowned, saying that the regime is treating them with contempt as though they were stupid, and that his smashed teeth and broken nose, along with the heavy bruising and scars from beating and whipping all over his body, including horrific swelling around his groin, showed very clearly how he had died. 
His family members further added that the water levels in the Jarahi river, drastically reduced by the regime's upstream damming and river-diversion program, mean that even a child learning to swim wouldn't drown there, while Ali was an expert swimmer who swam at a competitive level.
 The mutilated body of another Ahwazi protester, 20-year-old Ali Bani Asad, was returned to his family by regime security forces last week, a couple of days after he was arrested. His ribs had been smashed, and his nose pulverised during his torture. As with Mahdi Farhani, Ali Bani Asad's body was returned to his family on condition that they guaranteed they would hold no mourning rituals or funeral service.
 The recent spate of killings is an escalation of the regime's usual murderous brutality against Ahwazi Arabs and other ethnic minorities in Iran, in an effort to deter them from participating in the protests which have unsettled the regime leadership, through stepping up the terror and persecution against them.
 The first Ahwazi victim of regime reprisals in the latest protests was 32-year-old Emad Haidari, a former political prisoner from Ahwaz's Malashiyah district in the regional capital, Ahwaz city. Haidari was arrested a few weeks ago, on charges of making contact with Ahwazi rights groups in exile and of distributing VPN details among young Ahwazi social media activists to enable them to break the internet blackout imposed by the regime since the start of the protests. His tortured body was returned to his family a few days afterwards.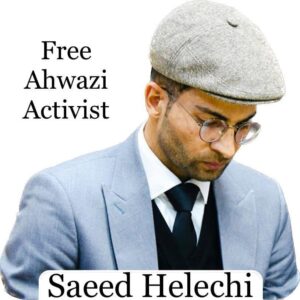 Another activist, Saeed Helechi, an Ahwazi poet and translator, was apprehended together with a group of women activists from the region, for participating in demonstrations, with all being taken to an unknown location by the intelligence services.
Another Ahwazi protester sentenced to death for 'enmity to God'
Meanwhile, 49-year-old Abbas Deris, one of the detainees detained since November 2019 for his participation in the Ma'shour protests in Ahwaz, in which the regime arrested or killed hundreds of Ahwazis for demanding freedom and human rights, was sentenced to death on Saturday, 22 October, on charges of 'enmity to God'. Deris' lawyer reported the news on social media, calling on human rights groups to lobby the regime and push to stop his client's execution, adding that the death sentence previously issued to Abbas Deris' brother, 30-year-old Mohsen Deris, on the same charges had been cancelled.
The revolutionary Court of Mahshahr sentenced #Abbas_Deris to death on the charge of "enmity against God"(Moharebeh). Abbas Deris was arrested during the November protests in 2019. His brother and codefendant #Mohsen_Deris was acquitted of the charges.https://t.co/pnUW4s3hvc pic.twitter.com/qgnnut6C2M

— HRANA English (@HRANA_English) October 24, 2022
Abbas Deris, a street vendor and widowed father of three from the Jarrahi city area of Ma'shour Port, was arrested along with his younger brother Mohsen at the protest, with both detained ever since then in the city's prison. Abbas was subsequently falsely charged with shooting at regime forces and killing an officer, Reza Sayyadi, on 18 November 2019, although Abbas was not in the area where the officer was allegedly shot, with eyewitnesses who were present that day denying that he and his brother were in the location where fighting broke out. 
Abbas Deris, father of three children, has been in jail since November 2019, and is now sentenced to death. His wife had a stroke a few months ago after hearing about the possibility of this inhumane sentence. pic.twitter.com/iCgp9pUNzu

— 1500tasvir_en (@1500tasvir_en) October 22, 2022
Abbas' subsequent 'confession' to this crime, clearly extracted under torture, was broadcast on state TV and used as the sole evidence against him in a farcical 'trial' in which Abbas and his brother, who was charged as his accomplice, were not allowed to present any evidence proving their innocence of the charges against them.
 Both were also charged with disrupting national security, and with 'mohareb' or 'enmity to God', with Mohsen being sentenced alongside Abbas as an 'accomplice'. Many of the others detained along with Abbas and Mohsen in 2019 have since died in custody, with reports suggesting they were tortured to death. Adding to the tragedy of their situation, Abbas' wife suffered a fatal heart attack on receiving the news of her husband's death sentence, with their three young children now left as orphans. Like most Ahwazis, the two brothers and their families lived in desperate poverty, sharing a small home.
 Abbas Deris' family members also pointed out that investigators had determined that the bullet which hit the agent came from behind him rather than from the protesters in front of the regime forces. Abbas Deris' wife's health reportedly worsened as she frantically worked to secure her husband's freedom, frequently petitioning officials in the local judiciary and even travelling to Tehran to put his case before senior judicial officials, with the stress eventually proving too great for her heart.
  In October and November of 2019, impoverished Ahwazis in the port city of Ma'shour, staged peaceful protests at the intolerable living conditions resulting from the regime's systemic repression of the Ahwazi people, with mass unemployment and poverty being the norm despite the region being home to over 90 per cent of the oil and gas reserves claimed by Iran. Had these protests been by Persian Iranians, it's likely that the regime would have brought in negotiators; whilst it might well have used some violence to end the protests, it's unimaginable that the regime would have reacted as it did to the unarmed Ahwazi protesters by deploying tanks, armoured vehicles, helicopter gunships and heavy machineguns, with the infamous Islamic Revolutionary Guard Corps (IRGC) orchestrating a massacre.
Dozens of Ahwazis who had blocked roads leading into the town were mowed down by the tanks and machine guns, while protesters who fled to nearby sugar cane fields and marshlands to escape the slaughter were deliberately burnt alive, with regime forces spraying the sugar cane fields and marshlands with petrol before unleashing heavy artillery, setting it alight. When the smoke from the raging inferno cleared, over 100 bodies were recovered, many of them unidentifiable due to the severity of the burns. Locals reported that the horrific stench of burnt flesh, petrol and sugar cane hung over the area for weeks. The true number of dead is believed to be considerably higher than that reported, with the regime still refusing to acknowledge that any massacre took place.  
 This utter inhumanity was not deemed sufficient by the regime, with thousands of Ahwazis arrested in the wake of this carnage, for supporting the protests and daring to condemn the regime's crimes and racist policies, and to raise awareness of the true horrors perpetrated by the regime.
 Abbas and Mohsen Deris were among the survivors of that regime massacre arrested in that round of mass arrests, which appears to have been intended as a warning or threat to silence further reports on the regime's atrocities. While Mohsen has escaped the death penalty, he now faces life imprisonment. Meanwhile, his brother's family has been notified that the sentence will be carried out imminently, though no date has been given, with authorities not even bothering to contact his attorney.
 Perhaps realising that 'enmity to God' would not be considered sufficient cause for a death penalty to anyone outside the Iranian regime itself, regime officials subsequently claimed, without presenting even one item of substantive evidence, that Abbas and Mohsen Deris had been responsible for the death of an IRGC officer who was actually killed by a stray bullet fired by his own forces as they unleashed volleys of automatic gunfire at the unarmed protesters.
Speaking about the day's events, an eyewitness, H.A., who also participated in the peaceful protest by locals from Jarrahi that day, said: "We were a massive crowd, but we had to retreat because of the raid and direct shooting by Basij, IRGC and NOPO [special forces police] forces at us. NOPO forces, including Reza Sayyadi, shot at us. The bullet hit Reza Sayyadi from the back and the experts who investigated the scene confirmed that."
 H.A. continued, "They obtained televised confessions from Abbas Deris under torture, saying that he had shot and killed the agent," adding that these charges are totally false.
 Video footage of the protests which activists managed to smuggle out of Ma'shour despite the regime's internet shutdown, which the authors viewed in late 2019 and more recently, conclusively shows that the protesters were unarmed. While regime mouthpieces and online propagandists tried to malign the Ma'shour protesters just as they're doing the current protesters, by inventing a narrative in which the demonstrators were violent while the regime forces were acting in self-defence, the regime has never bothered to produce even fabricated evidence for these ridiculous claims.
 Unfortunately, however, the regime's kangaroo courts do not require actual evidence, being designed solely to rubber-stamp the regime's own decisions. As the families of previously executed Ahwazi political dissidents like Hashem Shabani and Hadi Rashedi can attest, all the regime requires to lend official sanction to the state murder of prisoners is a fabricated confession extracted through torture. This helps explain why Abbas' wife suffered a fatal stroke last summer; she knew all too well the fate that awaits her beloved husband. Now, the regime seeks to make their three surviving children orphans.
 Abdulrahman Hetteh, an Ahwazi PhD researcher in international law and human rights at Middlesex University in London told DIRS: "Iran violates the civil and political rights of the Ahwazi people and subjects them to systematic arrest and killing in detention centres" He explained that under the Iranian Code of Criminal Procedure and Law, Ahwazi political prisoners are routinely accused of national security charges without any evidence to substantiate these allegations and are denied access to an attorney in the regime's infamous secret detention centres. They are then subject to grossly unfair trials, with the Ministry of Intelligence and Revolutionary Guards guiding the so-called Revolutionary Courts' decisions." 
Hetteh added, "In their annual reports, UN human rights bodies and experts raised the issues of disproportionate and unlawful killing of Ahwazi people by Iranian law enforcement and judicial authorities." 
Hetteh further explained: "Iran detains Ahwazi victims arbitrarily and subjects them to torture and forced confessions in violation of the due process of law without any judicial remedy for victims to complain about inhumane treatment and cruelty, which is in violation of several civil rights, including the right to life under Article 6 and freedom from torture under Article 7 of the International Covenant on Civil and Political Rights and International Convention against Torture, as well as depriving their children of a family environment, survival and development under the Convention on the Rights of the Child. This demonstrates the gross and systematic violations of the civil and political rights of Ahwazi political prisoners and the lack of protection under Iranian law."
The blatantly unjust sentence issued against Abbas Deris is not unusual; death penalty sentences based on 'confessions' clearly extracted under torture are routine for Iran's regime, which broadcasts these 'confessions' on state TV as part of its efforts to enforce fearful submission. Condemnations of the regime's grotesque human rights abuses from Amnesty International, Human Rights Watch and other international human rights organisations have had little or no effect, more especially since the US government and other Western states have worked to normalise relations with the regime leadership since the 2015 'legacy deal', putting diplomatic deals above the lives of the so-called Islamic Republic's victims, more especially those victims from ethnic minorities.
By Rahim Hamid, an Ahwazi author, freelance journalist and human rights advocate. Hamid tweets under @Samireza42.